The way we travel has changed, and the internet has become a big part of our daily lives; if you need to search for information, buy something and even make a booking it can be done online. We as a generation share our adventures on social media with our friends, family and followers and with more and more people opting to work online whilst travelling, the need for fast reliable internet is important and that's where the Skyroam Solis comes into play.
Disclaimer: In the interest of clarity, I was gifted the Simo Solis (formally known as Skyroam) to test in exchange for an unbiased honest review. This post also contains affiliate links, this does not cost you any extra money, but if you do click on the link and make a purchase, I will earn a small commission. You can read more in more disclaimers.
Note: This particular item is no longer available from Simo but they do stock the other items stated below.
What is Simo Solis, Where Can You Get It and How Much?
Simo uses a virtual sim to connect to the nearest phone tower, to allow its user to use the internet. The Simo Solis is a portable router/dongle that allows its user to connect to 130 countries and doubles as a phone charger.
You can get a Simo Solis as well as other Simo products from the Simo website and you can get 10% off by using this code SKYROAM1ERT.
How Do You Use Simo Solis?
This product is so quick and easy to use, that even someone who is not very technologically confident could set this up.
To get WiFi, press and hold Power On (the side button).
Connect your Solis to the hotspot's WiFi signal. You'll need the unique SSID and password on the inside of the Solis.
On your phone or connected device, visit the Skyroam account portal at a.skyroam.com. You'll have 20 free minutes to register using either your email, phone number or Facebook.
Press the WiFi button on the top of the unit to start using WiFi. Each day pass is good for 24 hours from the time you start using it.
Below I have included a photo diagram of how to use it.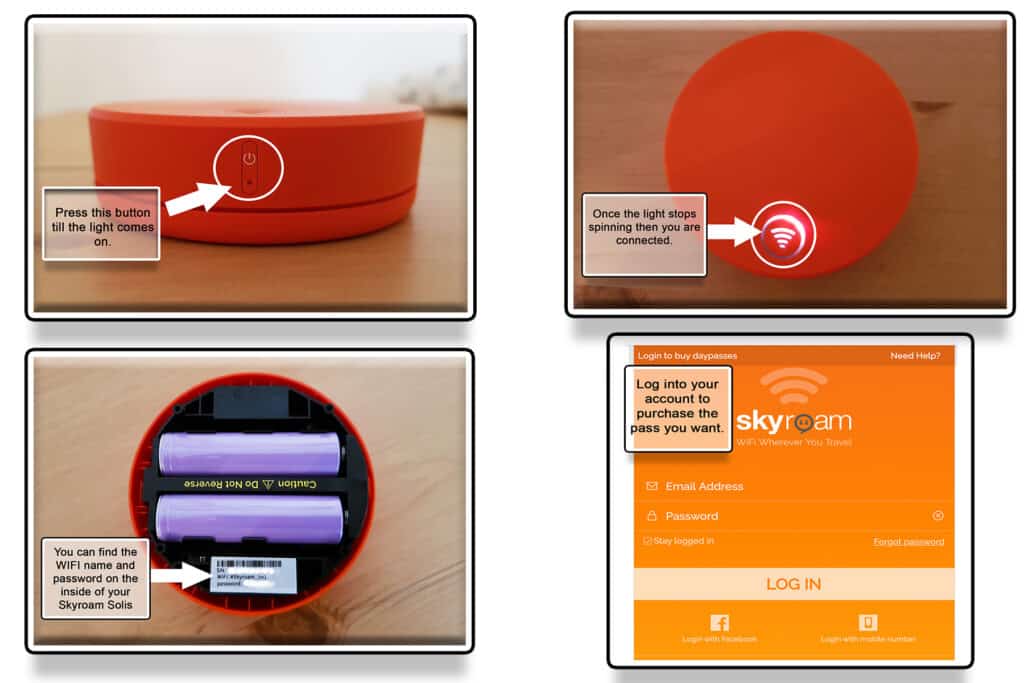 How Long Does the Solise Battery Last?
It depends on what you're using the Simo Solis for, to be honest, if you are only using it for the WiFi then it's around 15-16 hours. If you are using it to charge your mobile phone or multiple mobile phones throughout the day, whilst using the internet, then you'll get around 12-13 hours of battery life.
If you need more battery power you can always purchase a power bank, charge it through your laptop or purchase extra batteries more batteries, but to be honest, unless you are out camping on the grid the Skyroam Solis should last you for the whole day.
Note: Simo recommends that if you do need replacement batteries 18650 type with button top and not flat-top.
Skyroam Solis WiFi Cost
The great thing about Simo Solis is that you're not signing up for a contract so you can choose to purchase on a pay-as-you-go basis or opt-in for a monthly subscription which can be cancelled at any time. There are a few options available and there are always special offers.
An unlimited Monthly Subscription is £79 per month and you can cancel at any time, to be honest, if you are going to be travelling for a month or more this is the better option to go for.
GoData which £7 for one month of 1GB of data and a further £7 for an additional 1GB this is also on a subscription basis this is for the casual WIFI user.
Day Pass is £7 per day which is more or less the Pay as you go option, but I would personally opt-in for one of the Subscription.
Please Note: Simo operates on a fair use policy which in short depends on the number of people using the network at the time.
Where Doesn't Solis Work
Solis relies on mobile phone towers, so the only places it will not work are as follows;
Cruise ship unless it is docked in port.
Aeroplanes whilst in flight.
If you are in the middle of nowhere there are no phone towers,
The Benefits of Solis
No Contract you can pay as you go or get a subscription
No Sim Card Needed
Its Small enough to fit in your pocket, handbag or day bag
Works in 130 countries (Across Europe, The Americas, Asia, The South Pacific, Africa and The Middle East)
Multiple People can use it on up to 5 gadgets
You Can charge your mobile phone
It's 4G
Who is Solis Good For?
Backpackers who are travelling for a month or more
Travel Bloggers and vloggers who want to be able to keep up with their posting schedules.
Holiday Makers/vacationers who don't want to use their mobile phone roaming packages or pay extra for it.
Business Travellers and Digital Nomads who want reliable WIFI wherever they are around the world.
Family Days Out for those with young children who want access to Netflix, Amazon Prime and YouTube whilst on the go.
Mobile Gamers need to be able to log on.
People who have a long hospital stay and don't want to waste money on a TV card.
Season workers who work abroad for the summer season and need reliable internet.
Anyone that doesn't have an unlocked phone to purchase a local sim card.
Solis Vs Competitors
Mobile Phone Roaming
Yes, in the UK a lot of mobile phone providers do provide roaming packages, but they are set at a limit. If you don't buy a package, then you could be paying up to £7 or £8 a day.
Also, if you're tethering, your internet to share with others it will drain your battery on your phone, and you risk your data being used up depending on the plan you have.
Local Sim
If you opt-in for getting a local sim from wherever you are visiting in the world,  just for the internet you run the risk of perhaps not getting the best sim, which will mean you have to keep topping up and if the local language is not your native tongue then the language barrier become a bit can be tricky when trying to load the best data plan. (If you do want a local sim, do your research first to find the best pay-as-you-go SIM)
Some countries also require you to give your passport details to get the sim as it has to be registered. That is something that you have to be comfortable doing.
You also have to have an unlocked phone.
Other Dongles
There are lots of Dongles that you can purchase out there and some do offer some decent packages, but what I have found from using dongles is that if you want unlimited data you have to be in a 12-24 month contract (which is fine if you are permanently travelling, but you need to also be aware with contracts the price can rise).
The battery life on the small dongles has been known to drain quickly.
Hotel WiFi
Having worked in hotels I know that in busy periods for the hotel when the WiFi is free everyone will be on it, which means you will struggle to get a fast-reliable speed and if you want to watch something like YouTube then your viewing will be disturbed with buffering.
Some hotels only offer free WiFi in set locations of the hotel like the reception and bar, so if you want to use the hotel WiFi in your room you may have to pay to use the WiFi in your room which can get pretty expensive.
WiFi Hotspots
Most bars and restaurants offer free WiFi, but you don't want to have to go on the hunt every time you want free access to WiFi.
Also using public WIFI can leave you open to hackers, and malware and most networks are unencrypted.
Final Thoughts on the Solis
I really love the Simo Solis, it's safe and reliable. I can honestly say it's now become one of those items that I would never travel without. So far, I have used the Simo Solis in the UK and Spain for business and just for casual use, but I will also be taking it with me to Goa, India this October.
I would highly recommend it as a must-have product, for long-term travellers, or even regular travels as it's compact enough to not take up much room in your bag, easy to use and serves a double purpose as it also charges your phone.
you can get 10% off any of the Simo products by using this code SKYROAM1ERT Skyroam website
Other Blog Posts you Might like