Filtered water bottles have been around for a while now and as we have become more and more aware of the devastating effects that single-use plastic is doing to our planet, more and more people are switching to using filtered water bottles.
Disclaimer: In the interest of clarity, I was gifted my very first Water to Go bottle in 2018 as part of a past campaign to test in exchange for an unbiased honest review since then I have purchased filters and two more water to go bottles at full price. This post also contains affiliate links, this does not cost you any extra and even contains a discount of 15% for you, but if you do click on the link and make a purchase, I will earn a small commission. You can read more in more disclaimers.
Water to Go Bottles
Water to Go at present has three types of bottles which I will go into detail about below, but you can purchase any of the Water to Go Bottles and the filters from their website (https://watertogo.eu/) directly and as a bonus, The nice guys at Water to Go are offering all my readers 15% off on every purchase made if you use the code OERT15.
50CL The Go Bottle
The Go Bottle is great for sports activities, like going to the gym, running and cycling or even taking to the office just to name a few, they are lightweight even when full of water.
The filter lasts two months (or up to 130 litres) and includes a unique timer to let you know when to change the filter. The Go Bottle comes with a filter to get you started and you can buy more filters when you need them.
Cost: The Go Bottle is £14.99 and replacement filters are £9.99

75CL Bottle with a Sleeve
My personal favourite of the Water-To-Go Bottles is the 75CL Bottle, it carries a lot more water than the Go Bottle and the filters last a lot longer (lasts approximately 3 months based on filling the bottle 3x a day every day), this bottle comes everywhere with me from work to travelling abroad. although it looks big it is also lightweight and fits nicely into the side of my backpack.
Cost: The 75CL Bottle Starts is £27.99 and replacement filters are £19.99 (for a pack of 2)

75CL Active Bottle
The Active Bottle is the latest edition to the Water to Go family and is designed with the sporty type in mind. Although I haven't personally used this bottle works the same as the other two bottles and the filter is the same as the other 75CL bottle, but has a few unique differences compared to the other 75CL bottle mentioned above. The Active bottle is squeezable, has a detachable carabiner, fits in any bike cage and it is less bulky compared to the original 75CL bottle.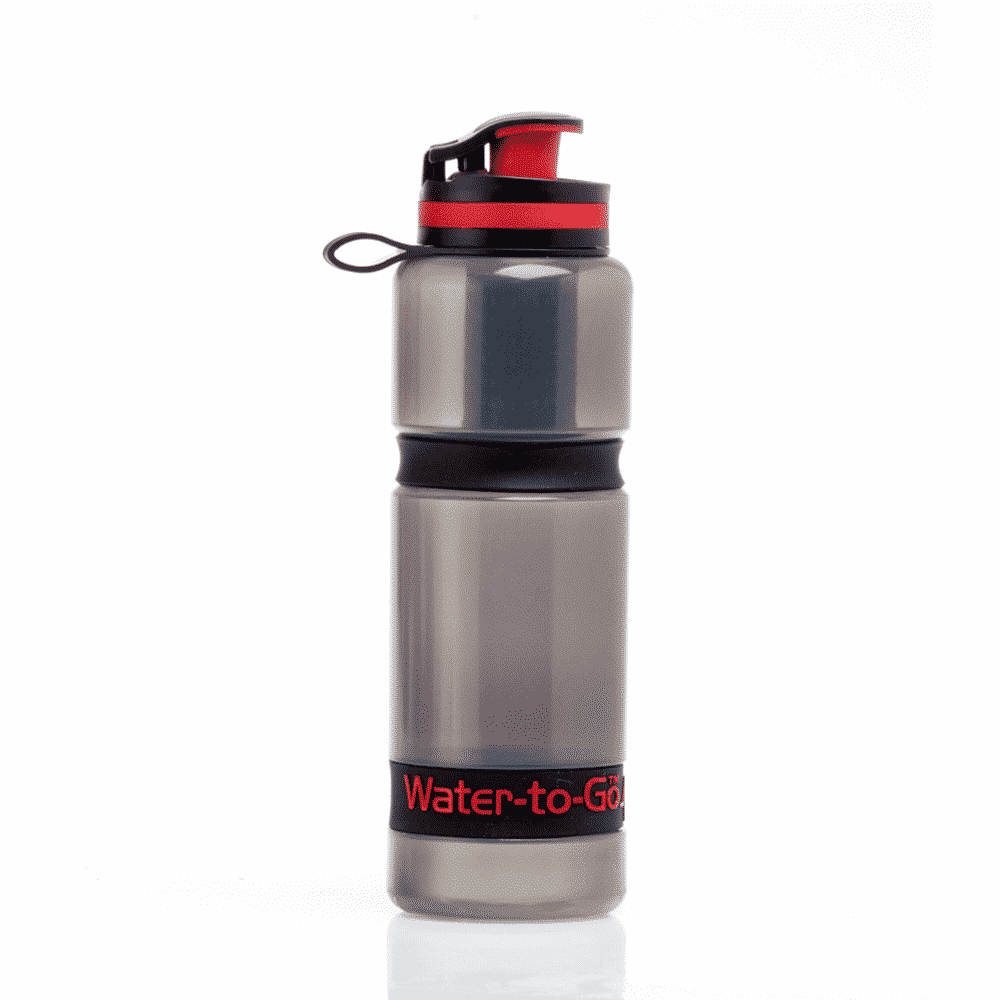 Cost: The 75CL Active Bottle is £29.99 and replacement filters are £19.99 (for a pack of 2)
Note: All bottles come with 1 filter to start with.
New Lid Design
The biggest flaw that the bottles originally had was their Lids as you could never really get enough water from them, they leaked a little and they didn't have a protective covering over them which probably wasn't the most hygienic of lids. This has all changed now as the team at Water-to-Go has listened to what their customers have said and created a new lid and the results fix all the issues that have been mentioned above the great thing about it is that the lid fits all the bottles.
Cost: £7.99 one size fits all bottles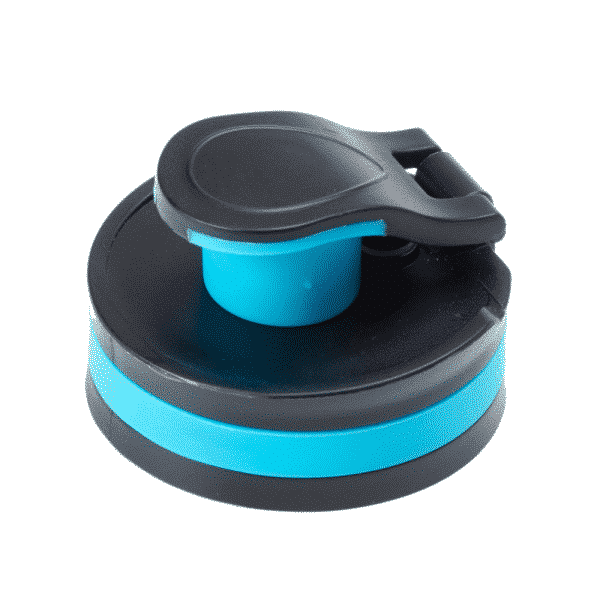 How It Works
In short, the Water-to-Go Bottles allow its user to access safe drinking water from any tap, river, lake, restaurant, bathroom, airport, literally anywhere (except sea water), which gives that extra peace of mind knowing that you can have access to safe drinking water anywhere on your travels.
What Does The Water to Go Bottle Filter Out?
Viruses and Bacteria
Norwalk
Hepatitis A
Tota Virus
Adenoviruses
Enteroviruses
Reoviruses
Coliform, E.Coli, Cholera, Typhus
Dysentery, Botulism, Polio, Virus Botulism
Vibrio Disease, Campylobacteriosis
Leptospirosis – Weil's Disease
Legionella (Legionnaires Disease and Pontiac Fever)
Parasites and Waterborne Pathogens
Fasciolopsiasis Taeniasis – Tapeworm
Echinococcosis Ascariasis
Coenorosis Schistosomiasis
Cryptosporidium Tryonosoma (Sleeping Sickness)
Threadworm Guinea Worm
Hookworm Roundworm
Pinworm Onchiocerca
Fasciola Hepatica/Liver fluke(Most recognisable and common problems)
Metals and Chemicals
Chlorine, Fluoride
Mercury, Nickel, Copper, Iron
Lead, Gold, Silver
Aluminium
Volatile Organic Compounds including Formaldehyde*
* According to the Water to Go Website their filters have eliminated over 90% of naturally occurring Arsenic 3 and Arsenic 5, a major result for a non-industrial filter.
The Benefits of Using a Water-to-Go Bottle
Reduces Plastic Consumption
Over the last few years, it's been incredibly shocking and sad to see just how much plastic consumption we use in a year and how it is damaging our oceans and wildlife. With the Covid-19 pandemic currently affecting the way we live globally; we have all had to isolate which has led to mass panic buying of many products including single-use plastic water bottles which could all be cut down just by using a filtered water bottle.
Note: The Filters are also recyclable for more information (Click here)
Saves Money
Initially looking at the cost of a Water-to-Go bottle may seem expensive at first but if you way up the cost of buying water from the shop, especially in the UK where a bottle of water costs from 50p -£1, the money you will save in the long run you will make back the cost of the bottle and save more (which can be put to buy other things) and you will be doing your bit for the environment.
Easy to Use, Safe and Ready to Go
Once you have activated the filter there is no having to boil the water, use a pump, add water purification tablets or have to wait. Once you fill the bottle and put the lid back on you are good to drink straight away. Using a Water-to-Go bottle ensures that you have safe water wherever you are.
Who Can Use Water to Go Bottles
Anyone travelling on domestic and long haul-flights
Backpackers
Hikers
Campers
Holidaymakers/Vacationers
Healthcare Professionals
Gymgoers and Personal Trainers
Schools, colleges and universities
Preppers
Long-distance drivers
To be honest anyone and everyone
Are There Any Negatives to Using a Water-to-Go Bottle?
There aren't a lot of negatives since Water-to-Go has fixed the lid issues and to be honest, the cons that I am mentioning below are not issues either, just honest feedback.
Bottle Look– If you are looking for a pretty bottle this isn't it, but I am sure you will agree that having safe drinking water whilst travelling outways the aesthetics.
Squeeze Ability – The original two bottles the 50cl Go Bottle and the 75cl Bottle with a sleeve are not designed to be squeezed so drinking from the bottle is easier rather than squeezing from the bottle into a cup or glass as these bottles are designed to be durable especially whilst travelling.
Doesn't Filter Saltwater – This is not an issue unless you're planning to get lost at sea and do your best Life of Pi or Castaway impressions (Which I do not recommend and hope doesn't happen to you). The fact that this bottle filters all other types of water is not an issue and with filters rapidly changing and getting better who knows maybe in the future these bottles will filter saltwater also.
You Can't Dilute – If you like to add flavour to your water you can't do it with this as the filter is designed to remove everything from the water. (Which just goes to show how good this is at filtering)
Where Can You Get A Water-To-Go website?
I like to buy directly from the website because you can use the 15% discount code OERT15 and I have found it to cost less, but you can also purchase from Amazon (just be aware that this may be older stock so you may end up with the old leaky lids)
Final Thoughts on the Water-to-Go Bottles
I love my Water-to-Go bottles, and truthfully, I never leave home without one, and over the last three years, I've used it whilst on various trips to places like India as well as in Europe and of course in the UK where I am based.
Had travel not been put on hold for 2020, I would have taken 2x Water-to-Go bottles and spare filters with me on my year of Travel, which is now on hold till further notice.
Other Posts You Might Like