London has so many fantastic attractions to visit and as part of my London Travel series, my aim is to give my readers as many reasons to visit London as possible. Recently I was invited to experience Dreamworks Tours; Shrek's Adventure London, normally, I would have taken my nephew with me, as we have been before as part of a 3 attraction special deal I purchased which allowed us to visit Madame Tussauds, The London Aquarium and of course Shrek's Adventure London, but as it was a school day and the summer holidays had just finished he couldn't come, so I took my friend Denise from Fabulicious Travels instead as she wants to start blogging herself.
Shreks Adventure Experience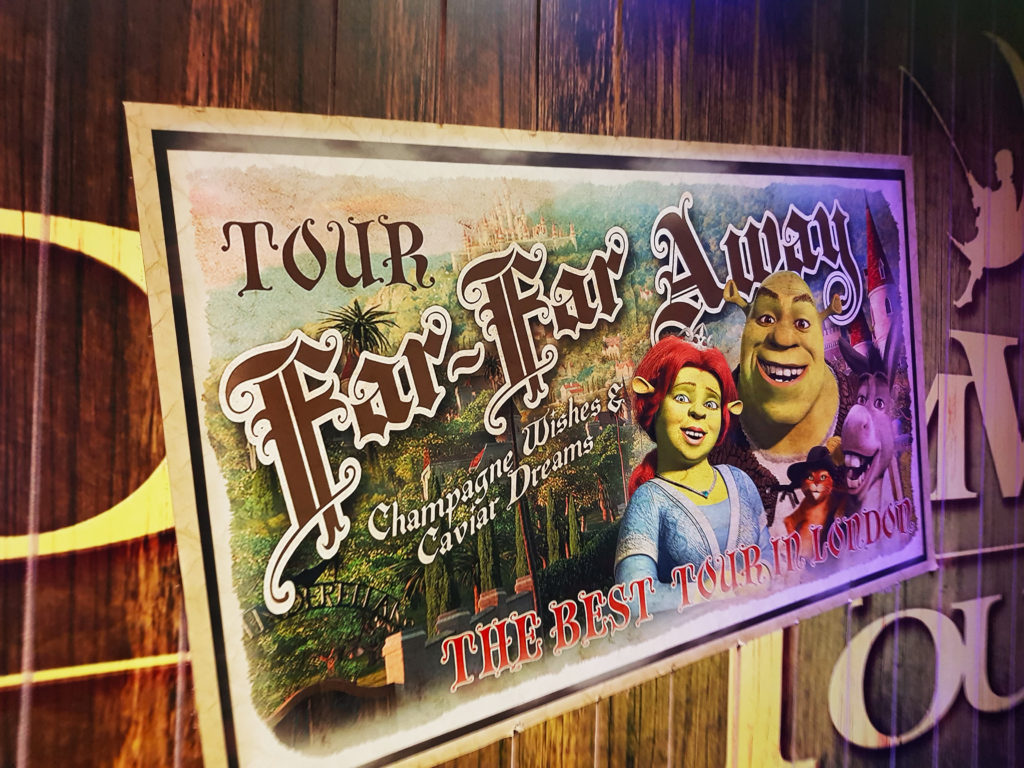 We arrived at the Shrek's Adventure 15 minutes before our set entry time which was at 1:00 pm, so that we could have plenty of time to get our tickets scanned and have our bags security checked. Luckily for us, there were only 10 people in our group including us which meant that we were able to move things along much quicker.
As we walked through to the main area we were greeted by the Tour Guide, who set the adventure into play, whilst also running through the checklist of the do's and don't's. Which included enforcing that the use of flash photography, videography and mobile photography during the main tour is strictly prohibited. Which as a blogger and vlogger is a nightmare because I want to capture everything, but very understandable because if the whole event was captured, it would spoil the magic and no one would visit.
Once the Tour Guide had said her bit we were guided through to our first Princess the one and only Princess Fiona and then on the DreamWorks tour bus for a 4D experiences which was ready to take us to the land of Far Far Away…
4D Experience
This was essentially one of the best 4D experiences I have ever experienced because unlike a lot of other 3D/4D movies it's not just in front of you, the whole experience is happening all around you, from all angles and you are a part of it, through the sights, sounds and sensations.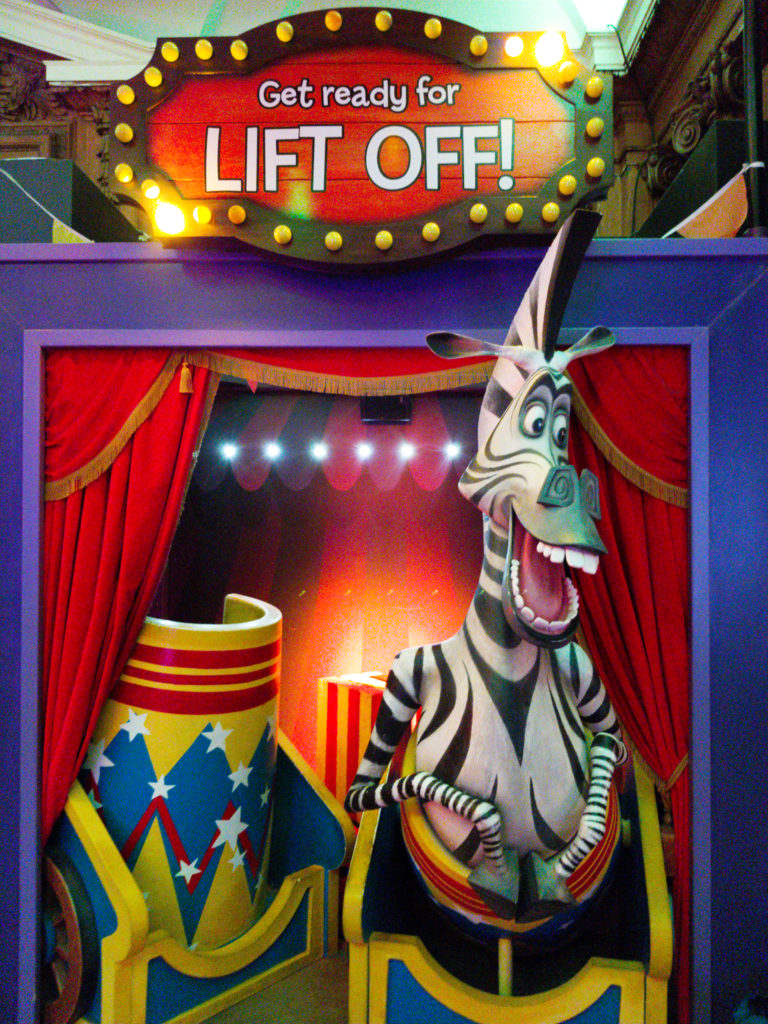 Land of Far, Far Away
Once the DreamWorks tour bus arrives in the Land of Far, Far Away you'll have to work your way through various tasks including; mazes and game shows as well as interacting with various characters from the franchise both good and bad including Shrek, Donkey, Puss in Boots, Pinocchio, a few Princesses as well as witches and Rumplestiltskin just to name a few and audience participation is required, in order to move on to the next chapter of this interactive adventure. Without giving the plot away, I am proud to say that I volunteered myself to help the muffin man as my tour group were a little shy and hesitant to join in.
The Other DreamWorks Themes at the Attraction
Once the main adventure is finished, visitors have the opportunity to visit some of the other popular DreamWorks Animations movie themes and pose for photos with their own camera. The movie-themed areas included Madagascar 3: Europes Most Wanted, Kung Fu Panda and Trolls, I think that this changes every so often, because when I previously went with my nephew they had a How To Train Your Dragon theme instead of the Trolls theme. It's probably due to a change again for 2019 when the How To Train Your Dragon; The Hidden World is released.
Final Conclusion
I have been to Shrek's Adventure London, twice now and really enjoyed it on both occasions. It's a fun experience for children aged 6 years+ because it's a very interactive adventure and of course it's enjoyable for big kids like myself as well. The only thing that I would say they could look at doing in the future is to have a few more characters like Kung Fu Panda walking around after the main story is finished in the other sections, to give the children a chance to meet and greet them and have photo's taken with their own camera.
Audience Participation
The adventure does require some audience participation because effectively you are part of the story. The experience is what you make it, and if you're not willing to cheer and join in when requested by the performers then you won't enjoy it as much, because you'll spoil the magic of the interactive adventure. (It's ok to let your inner child out as no photo's or videography is allowed during this section, no one will ever know).
Photo's
At the start of the adventure, you're invited to pose for photos. The first is with a statue of Donkey, the second is in front of a green screen where you are asked to do a number of poses and they will add your images with a few Shrek theme backgrounds as well as a few other DreamWorks Animations characters. The third photo is with the man himself Shrek, which you can also use your own camera for. Should you choose to pay for this you get a photo book and the printed photos for £36, but if you want to save some money you can get the images emailed to you for £16 and print them off yourself which is what I did on this occasion as I had previously done the £36 option when I took my nephew the first time around. But this is not compulsory to do and there are opportunities to take photos after the main adventure.
Gift Shop
For those of you with children, it's worth noting that there is no way to avoid the gift shop as you have to walk through it to exit the attraction. But it's worth having a look around as they do have some special offers and reduced to clear items but you can get a look at how much the cost of the items are by looking at the online shop section on the attraction website.
Make A Day of It
In the interest of making a day of your adventure, especially if you are visiting from outside of London. You might want to plan a few other activities to do during your trip to Shrek's Adventure, as this is only around an hour long. So, I would recommend that you pick a morning time slot, leaving you to do some of the other sites and attractions that London has to offer (there are offers available on the ticket and offers section of Shrek's Adventure website), you could also take a walk down the South Bank and see what events and activities are going on down there and if you have children with you and the weather is nice there is a park opposite the London Eye which is free to go to.
Shrek's Adventure Information
Shrek's Adventure Opening Times
Monday 10 am -4 pm
Tuesday 10 am-4 pm
Wednesday 10 am -4 pm
Thursday 11 pm – 4 pm
Friday 10 am -4 pm
Saturday 10 am -6 pm
Sunday 10 am -5 pm
Please Note: Times may vary for school holidays and special events, so check the website to check for the most up to dated times.
Shrek's Adventure Ticket Prices
I always recommend purchasing tickets online for most attractions as they tend to be cheaper and sometimes there may be mix and match ticket deals available (So check the website for other offers).
Standard Adult Ticket – £19.00 (online) and £27.50 (On The Door)
Shrek's Adventure Adult Premium Ticket – £28.50 (Online) and £37.00 (On The Door)
Standard Child Ticket (Ages 3-15) – £15.30 (Online) and £22.00 (On The Door)
Shrek's Adventure Children's Premium Ticket – £23.80 (Online) and £34.50 (On The Door)
Please Note: Under 3's get in for free and family tickets are available.
How To Get To Shrek's Adventure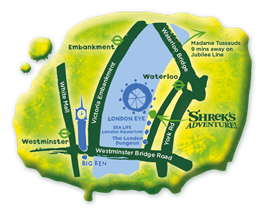 Shreks Adventure is Located on the South Bank next to attractions such as The London Eye, The London Aquarium and The London Dungeon. Opposite The Houses Of Parliament.
Address: Shrek's Adventure, Riverside Building, County Hall, Westminster Bridge Road, London SE1 7PB
Nearest Tube Stations:
Waterloo (Jubilee, Bakerloo and Northern Lines)- 6 Minute Walk
Westminster (District Line) – 11 Minute Walk
Embankment (Circle, District, Northern and Bakerloo Lines) – 13 Minute Walk
Charing Cross (Bakerloo and Northern Lines) – 16 Minute Walk
Buses
Buses that take you close to Shreks Adventure are as follows;
Nearest Rail Stations
Other Blog Post's In My London Travel Series