On Saturday 7th July, I travelled from London to Leeds for the Ice Lolly Holidays Blog at the Beach event, which is an event for Bloggers, YouTubers and other influencers to network with each other, learn from specialised talks and also understand how big and micro-influencers can work with Ice Lolly Holidays.
Often when I go to these bloggers events they can go one of three ways;
A complete waste of time with nothing achieved, and with a complete lack of interaction with the event hosts, who want to work with the influencer but aren't quite sure how.
Very overwhelming and an information overload
Great networking and lots learnt and come away feeling like you have achieved something.
I am pleased to say that I came away feeling number three which was good because London to Leeds is a long way to come feeling the other two.
The Blog At The Beach Talks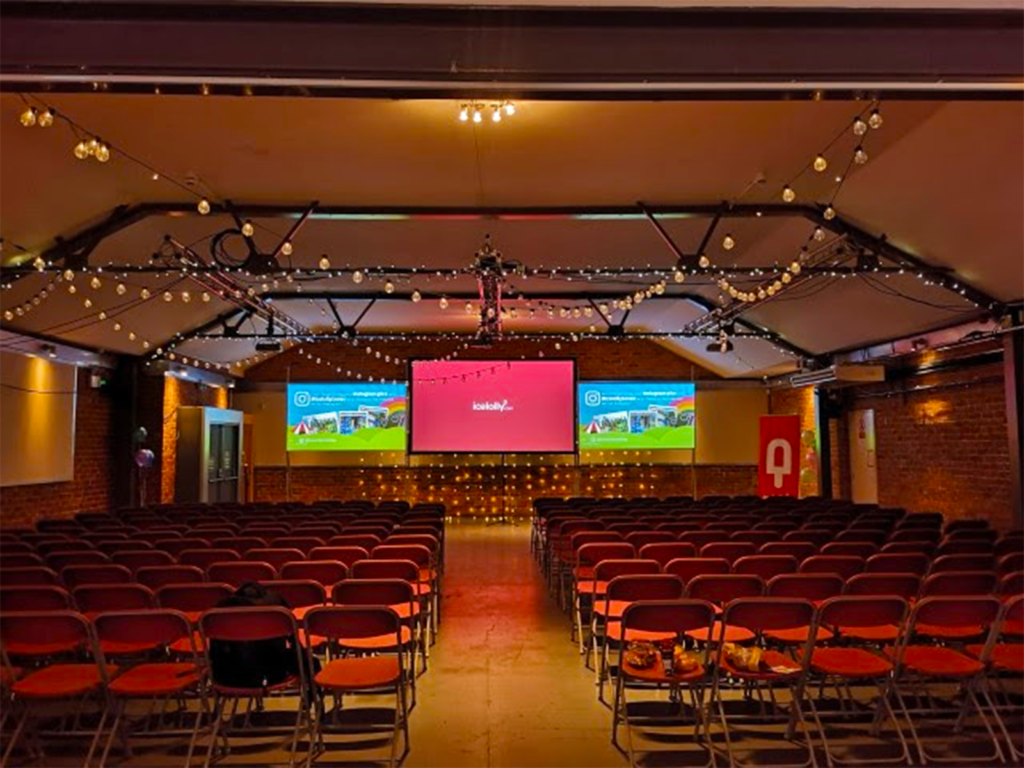 Ice Lolly Holidays had invited three established influencers to give talks on different subjects that we as influencers could input into our blogs and YouTube Channels as a strategy to help boost our brands and would help us to work with brands and gain a following in the future.
Our first talk of the day was from Sophie who has vast experience working not only as a blogger and vlogger but also as a journalist, presenter and filmmaker. Sophie's talk was very inspiring and educational because it was focused on how influencers can make the most out of working with media outlets and get our stories out to a bigger audience. The Main points Sophie covered;
How to make it in the Media
We all have a story tell and it doesn't have to be dramatic or sad it can be about an achievement or a life-changing moment.
It's all about finding that hook that will spark attention. Research where your story could best be told and don't be afraid to pitch to media outlets because they want your story.
Finding an angle so that journalists bite
How to write a press release.
What I took from Sophie's Talk:
I learnt a lot of off of Sophie's and to be honest I have never really considered promoting my work through the media or even considered seeking out media outlets to boost my story, so this is defiantly something that I will look into ahead of my big adventure.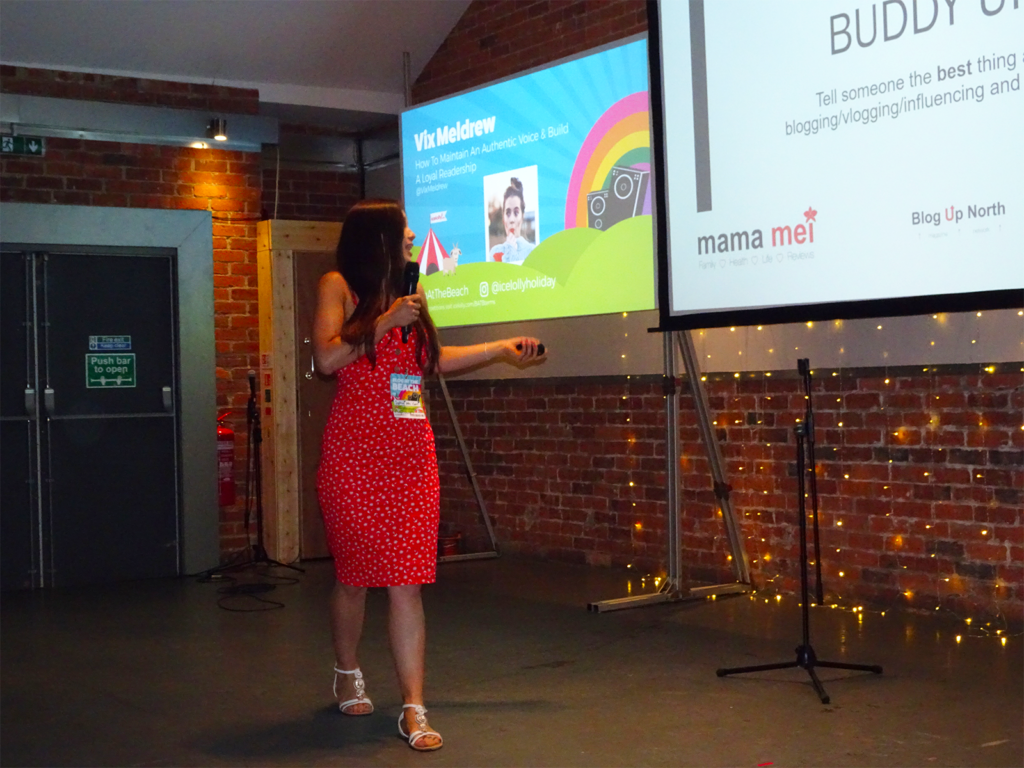 Vix Meldrew – Owner of Vix Meldrew
Vix was our second speaker of the day and who is the type of blogger what you see is what you get, her personality is the same on and off her blog very witty and down to earth. Vix told us how she started out as a dating advice blogger and when she met her partner had to change her niche and also how she has established her business mentoring other influencers. The main focus of Vix talk was about showing your personality through your blog the main point's Vix covered were;
Why the Bloggersphere is oversaturated and why you need to be different.
Why you need to let your personality come out in your blog and how to find your personality.
How to market your package and not to be afraid to seek payment from brands because although freebies are nice that's not what is going to pay the bills at the end of the day, and that we as influencers need also understanding that it is a two way relationship to expect to be paid brands need to know that they are going to get a package that will help boost their brand.
What I took from Vix's talk;
I took two things away from Vix's talk the first was that I don't let my personality come through enough on my blog or YouTube channel and this is something I need to do, because I get so focused on giving the information sometimes I forget to be a person and I think once I find this happy medium this will boost my One Epic Road Trip by leaps and bounds.
The second thing that I took away is the realisation that is that I have a lot to offer brands as I blog and vlog and my social media is growing slowly but that I have a small but engaged audience.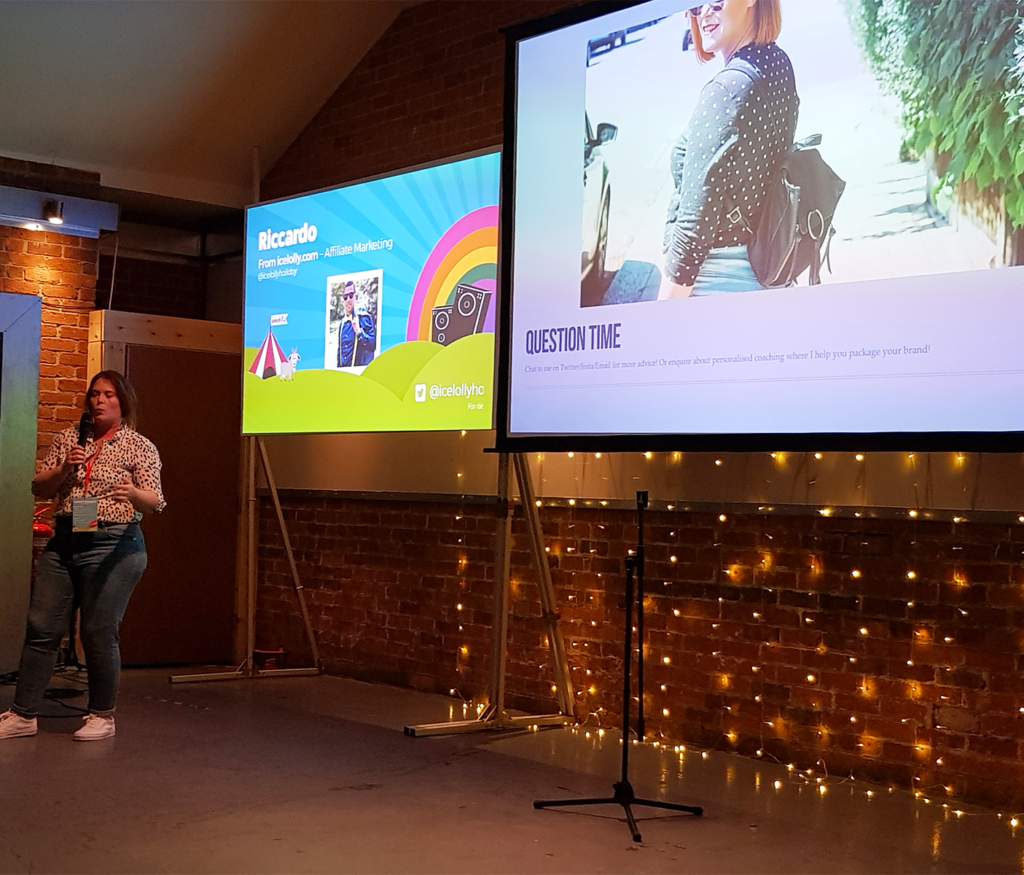 Sabina Trojaneva – Owner of Girl Vs Globe
The final talker of the day was Sabina who is a Blogger and YouTuber and funny enough her video popped up in my feed a week or two before Ice Lolly Holiday's Blog At The Beach Event and I had subscribed to her channel before I even knew she was going to be there. Sabina's talk was interesting because it was on Video content and how it can reach a bigger audience and how to do this. The main points that Sabina covered were as follows;
Creating that video that forms that emotional connection with viewers and once you do that they will want to stay and view more videos.
Video's get more shares than photos and text.
It's never too late to start on YouTube and to never give up as it only takes one video to go viral.
What I took from Sabina's Talk;
I'll be honest I am under no illusion that just like with my blogging my vlog content needs to be more consistent and I really need to get myself into gear and motivated for both. But I have lately been feeling that I got into YouTubing a bit late, but now I feel inspired to really give my video content the push that it needs and deserves.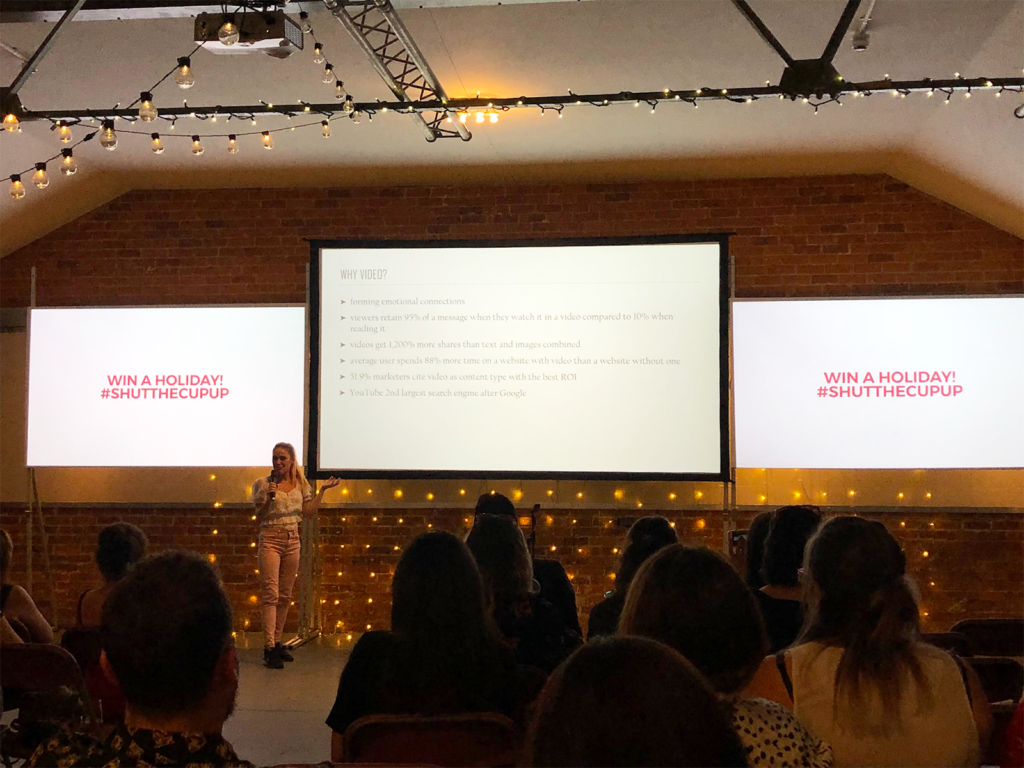 As well as guest speakers we also had a few talks from The Ice Lolly Holiday's Team which covered;
What Ice Lolly Holidays is and How they work in the market
Their research into Trends with holiday bookers
Where Ice Lolly Holidays plans to go moving forward
How Ice Lolly Holidays wants to work with influencers
Ice Lolly Holidays offers affiliate links for influencers to use and actually the commission is pretty decent.
What I learned from Ice Lolly Holidays Blog At The Beach
I actually learned a lot from Ice Lolly Holidays, I am being totally honest now when I say that I didn't actually realise that Ice Lolly Holidays was actually a price comparison site like Trivago and Kayak. I actually thought they were just a holiday booking site like Thomas Cook or Travel Republic with set prices but they actually get all the best prices from various holiday companies.
What I liked about Ice Lolly Holidays as an influencer;
Often a lot of companies who try to work with influencers don't really take the time to understand what it is that we actually do and use these type of events to find the biggest influencers in the room by swerving the micro-influencers and to get their event trending. Ice Lolly Holidays Blog at the Beach, was a way for Ice Lolly to show that they have taken the time to understand influencers and that they want to work with influencers big, medium and small, they also made the effort to give extra training with guest speakers to help influences improve their brands as well as educate us on their brand going forward.
The World Cup, Food & Competitions
Blog At The Beach wasn't just about learning all day we also had the opportunity to network and make new blogger friends, eat delicious stone-baked pizza's and hot dogs and have free drinks. But it was also about the competition on and off the pitch not only were we able to support England at the World Cup but we also took part in a number of competitions put on by Ice Lolly throughout the day which included;
Searching through a mother truck full of beach balls to find the golden ball to win a holiday.
Pass the parcel which was actually, pass the luggage with a number of prizes (I am pleased to say that I won an Ice Lolly holiday's branded bottle opener)
Giant Beer Pong – Although there was actually no beer involved in the beer pong competition I am proud to say that myself and my teammates Sophie (Mama Mei), Francesca (Gluten Free Horizons) and Sarah (All At Home With Sarah) beat other blogging teams and the Ice Lolly team to take home a Joby Gorilla Pod Mobile Rig and a Lowepro bag M-Trekker 150 backpack which you can see from the celebration photo below.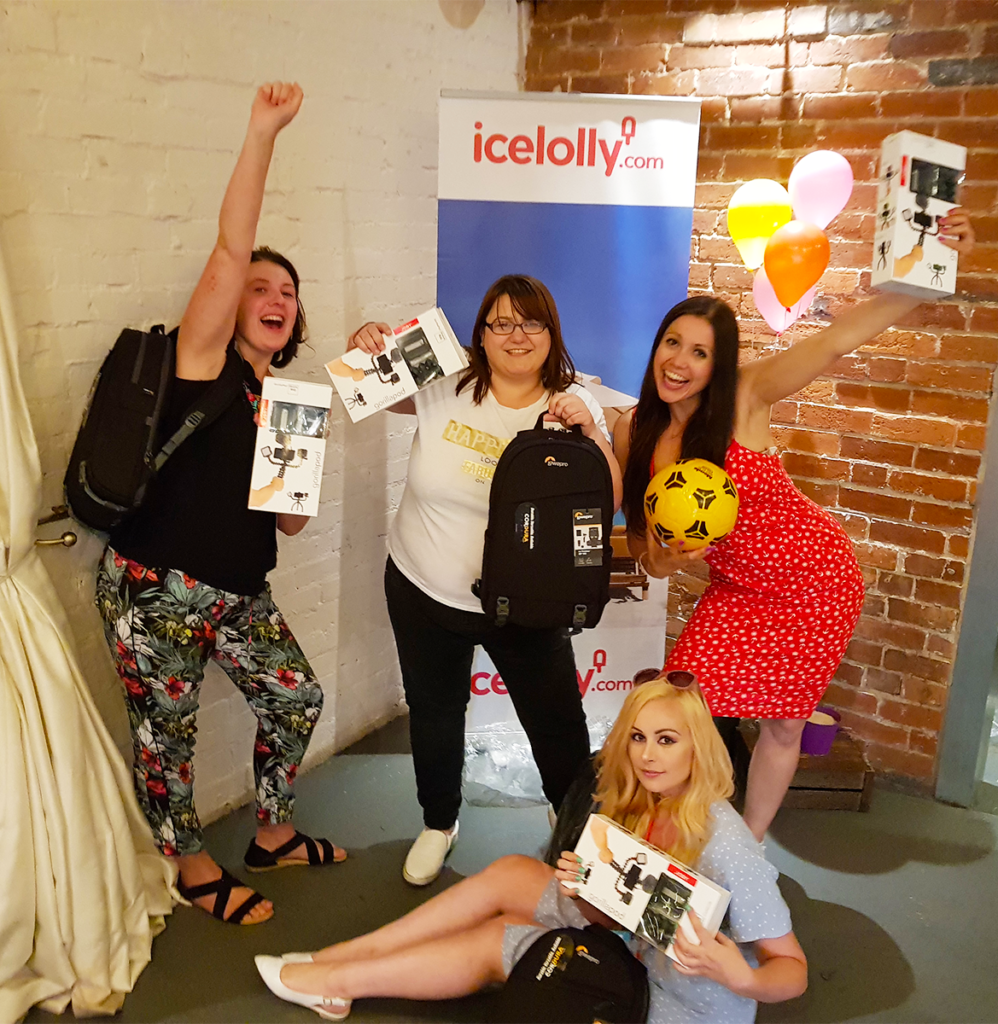 Final Thoughts on Blog At the Beach
Thank you Ice Lolly Holidays for a great Blog At The Beach I learned a lot and had a lot of fun and hope to come to your next event and to maybe work with you in the near future.
More Tips for Bloggers & YouTubers
Why Bloggers Need To Start Thinking Like A Blogger Part 1
Why Bloggers Need To Start Thinking Like A Blogger Part 2