As part of my stay at Hidden Valley Yurts with a few other lovely bloggers for its 10 year anniversary, we were lucky enough to have been invited to take part in various activities around Wye Valley which were hosted by a few local businesses. One of which was a storytelling session with Strolls 'n' Stories. I'll be honest I didn't really know what to expect I thought it was going to be a case that we were taken to various locations and just told the history of it just like you would on a sightseeing tour, but what I got was something much more fun and enjoyable.
Arriving To Meet Jan from Strolls 'n' Stories
As myself and 6 other bloggers pulled up into a car park in Trellech, Monmouthshire we were greeted by Jan the owner of Strolls 'n' Stories who immediately gave us a very warm welcome, she then went onto explain to us a little bit about the concept of Strolls 'n' Stories and that she started the business, because she loved history and that she enjoyed the theatrical side of things, now this immediately made me curious because being from an entertainments and performance background anything theatrical immediately sparks my interest, but Jan didn't give too much away about what we were about to experience.
Strolls 'n' Stories Stop One: The Tump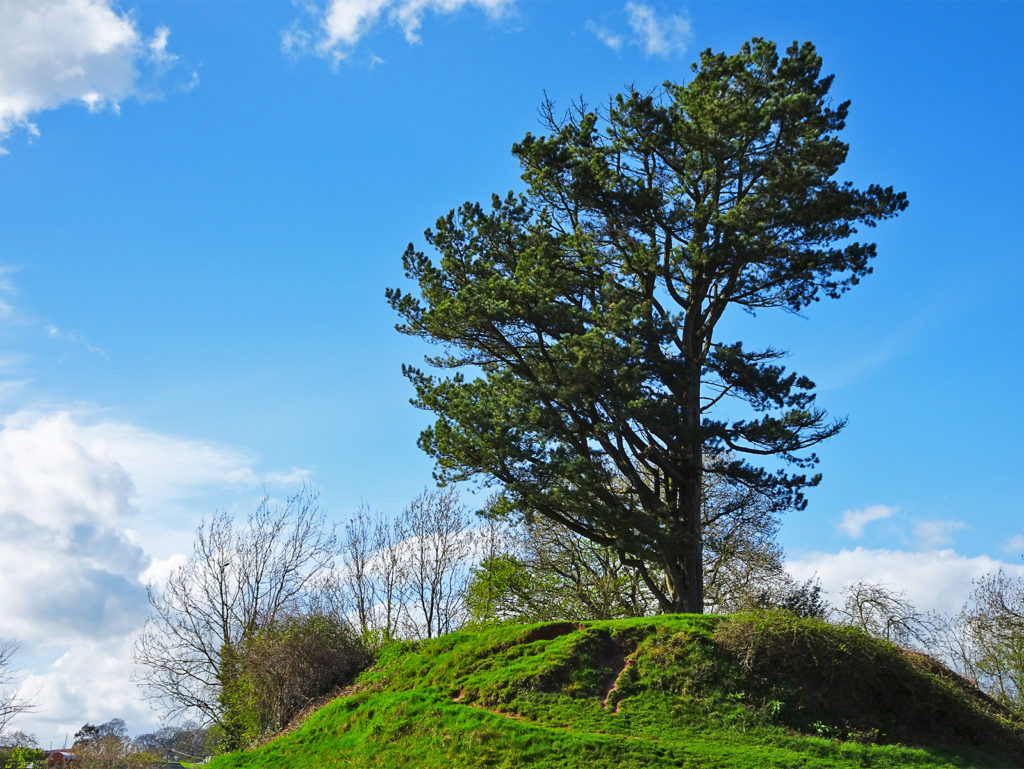 Our first stop was literally less than a minutes walk from the car park and as we approached the big green 40ft mound which had a medieval/Game of Thrones Weirwood looking tree on it. Jan explained to us that this mound dates back to Norman times and once had a castle on top known as the Castle of Trellech or Tump Trellech Castle.
Once we all got comfortable and seated on the mats provided, Jan began telling us the story of the Black Death plague, which had hit Trellech in the 1300s. But Jan brought the story to life as she told us the story of Old Nell. A monologue as told through the eyes of Old Nell a healer and elder in the village and how she survived the plague to meet a strange twist of fate. At this point, Jan had got us all hooked and we couldn't wait to go to the next location and hear the next story to be told.
Strolls 'n' Stories Stop Two: The Standing Stones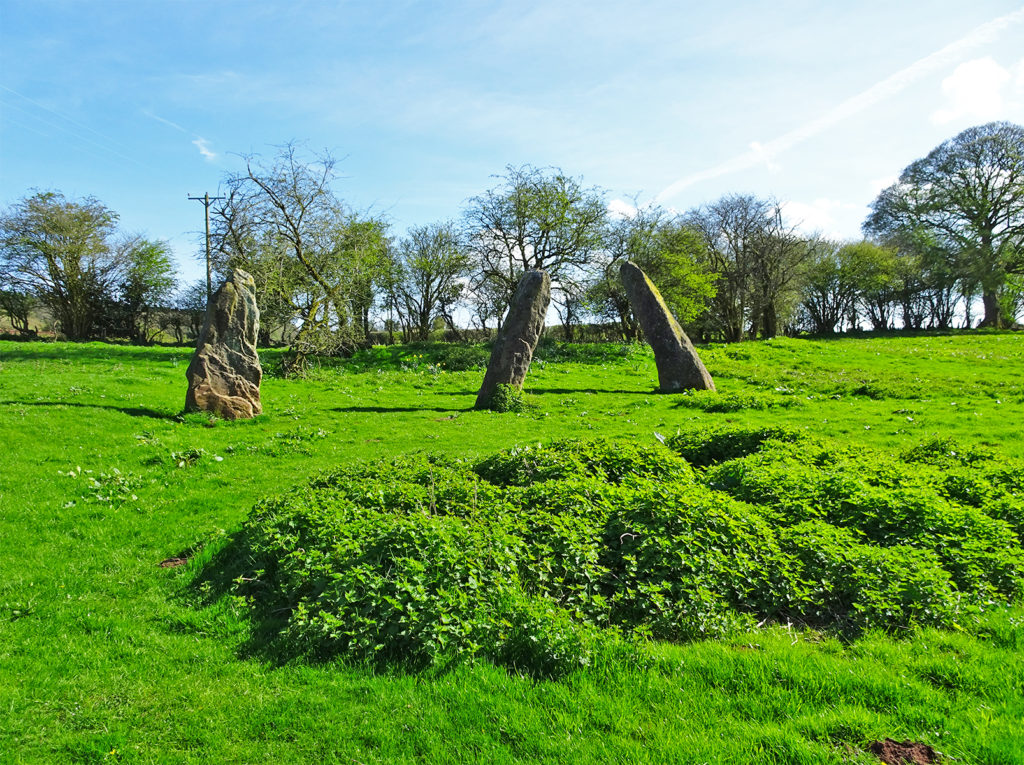 Our next stop was also a short walk and this time it was to the mysterious standing stones which are sometimes known as Harold's Stones. Like many stones sights across Britain such as Stone Henge, these stones are a mystery but there are many myths and legends surrounded around them.
This time Jan told us about the Local legends that surrounded the stones, the first was of how the stones were supposedly erected to commemorate a battle won by King Harold the last of the Saxon Kings, but that the issue with that is that the stones dated back long before the time of King Harold which lead to the next legend; The Legend of the Giant Jack O'Kent who had a stone-throwing competition with the Devil and flung the three stones from Skirrid mountain and where they stand is where they landed.
Jan also talked about some of the magical thoughts surrounded round the stones such they may have been used by the Druids as a conduit and how many people can feel a magnetic force through them or that each stone has a meaning and one of them is a fertility stone and if you touch it, it's thought that you might get pregnant.
Strolls 'n' Stories Stop Three: The Carved Sundial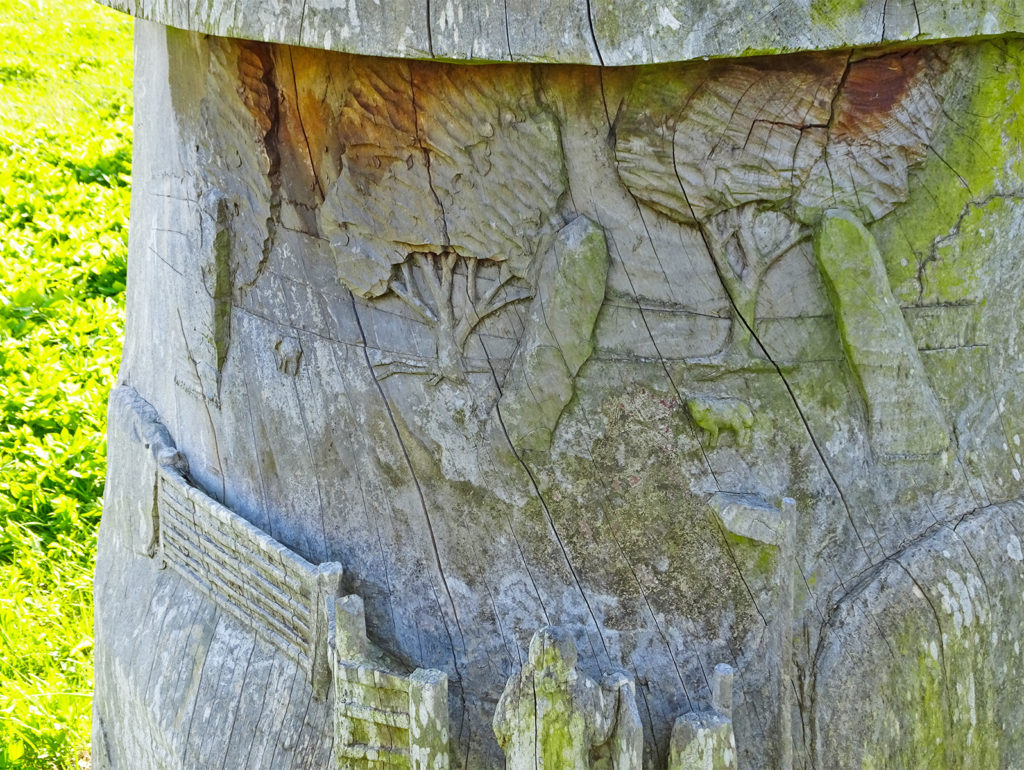 Our third stop was to visit was a wooden handcrafted Sundial which as you can see from the picture above the carvings depict the three famed monuments of the town such as the castle on top of Tump Trellech, The standing stones and the Virtuous well.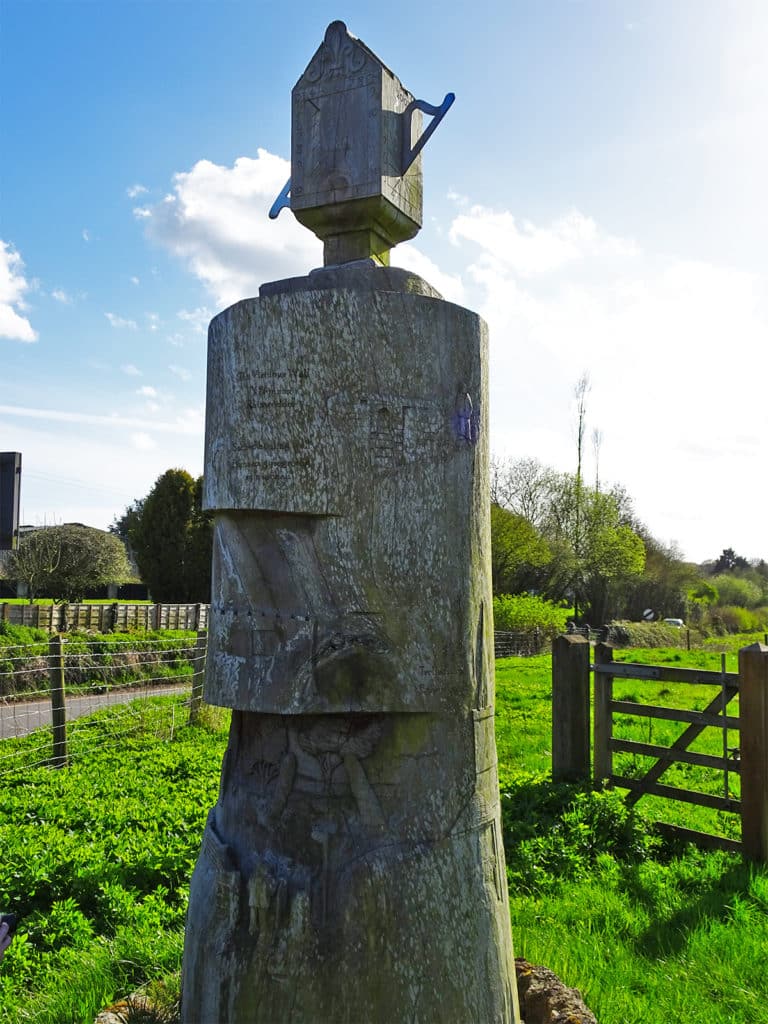 Strolls 'n' Stories Stop Four: The Virtuous Well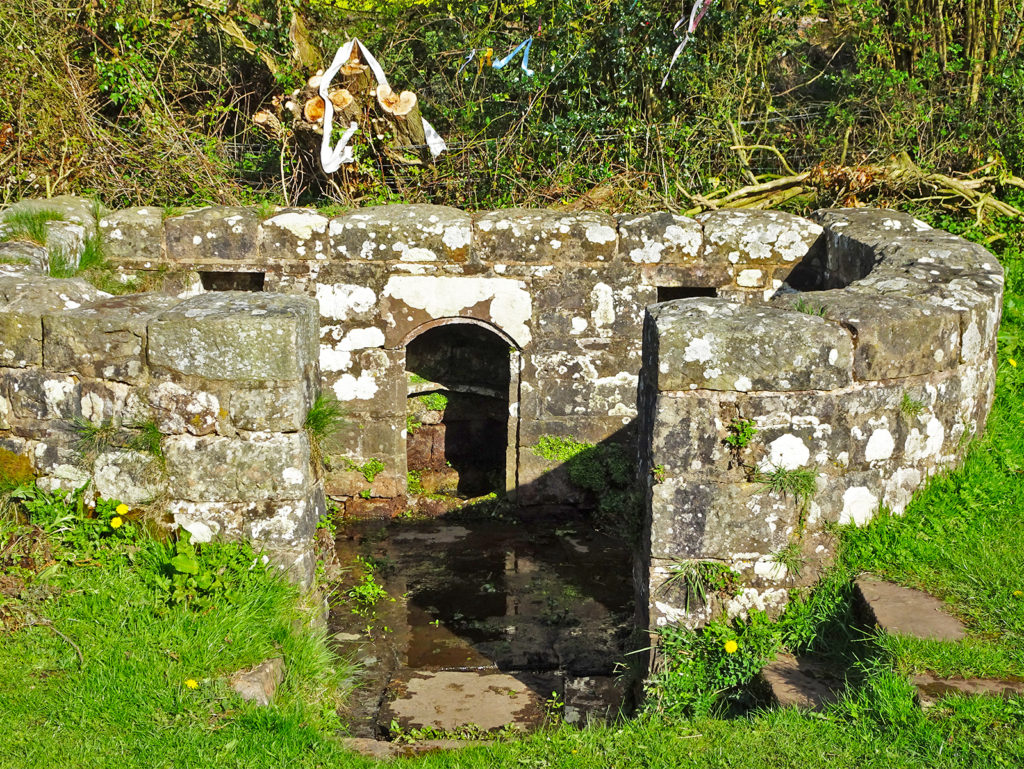 Our final stop was my favourite stop on the walk, which was to the Virtuous well also known as the Holly Well or St Anne's Well and although it has all dried up now, people even today come and make offerings to the well, which you can see from the ribbons on the trees behind the well, as well as within the well.
Jan had two stories to tell for this final stop the first was more of a local legend about the fairies who were thought to have danced around the well and that the farmer who owned the land destroyed the fairy garden and as a punishment was cursed and had to make it up the fairies and compromise with them.
But the most inspiring story and I would say and I think that everyone who was on the tour would agree with me, was about Bertram Russell's mother Katharine Russell, Viscountess Amberley, who was also a Suffragette and did so many inspiring acts in which she didn't get enough credit for. As s she did with Old Nell's story channelled her inner Katharine Russell and told us the story as a monologue through the eyes of Katharine Russell and the way Jan performed the story was captivating, I think that everyone teared up a little I know that I got a lump in my throat and felt so inspired.
Final Thoughts About Strolls 'n' Stories
This was my first time going on a tour like the one Strolls 'n' Stories provided and I have to say even weeks after I went on this tour, it is still a memorable tour. Jan the owner of Strolls 'n' Stories researches the history of these walks and creates the stories as if she was really there and channels each character that she plays perfectly, so much so that she truly captures the imagination of her audience. Jan takes the time to get to know everyone on her tour and learn everyone's names and is a very welcoming person, she is the type of person you want around the campfire at night telling campfire stories before bed.
We as a generation spend so much time glued to the tv screen and to our phones looking on social media we forget to look and see the stories around us and if it wasn't for people like Jan we would forget the history of Great Britain that helped forge us. Whether you're a school, corporate group, in a group of friends or family or even if you're on your own, I recommend taking a walk with Jan on a Strolls 'n' Stories tour, because not only will you take a step back in time but you'll also walk away having learned something new.
I did this tour whilst staying at Hidden Valley Yurts and you can read my review by clicking here.