Back in October 2017, I spent one week in Rome, Italy having been invited to blog and film my experience at Hotel Roma Aurelia Antica by Reginal Hotels, which I had actually visited before back in 2016.
Hotel Roma Aurelia Antica is a hidden gem which is just a 20-minute drive from Vatican City and 30 mins minutes by train to Rome's city centre. With regularly scheduled hotel transfers to the Vatican City walls at just €3 for a round trip, regular trains and taxi's available to be booked from the hotel, there are plenty of ways to get to Rome city centre from the hotel.
I arrived at Hotel Roma Aurelia Antica absolutely exhausted having not slept for 24 hours due to flight delays and no trains or bus transfers running at the time of night that I arrived in Rome. I was handed the key to my room and had my bags taken straight up to my room with every intention to have a shower and head out but instead I passed out on the bed.
What I loved about this hotel is that their guests were international instead of it being a solely a British hotel, having worked as an entertainments manager for years in hotel and resorts you learn to enjoy getting to know people from all walks of life and all parts of the world and although its a little out of the way from the city centre, its still central enough to get into Rome.
Eating at Hotel Roma Aurelia Antica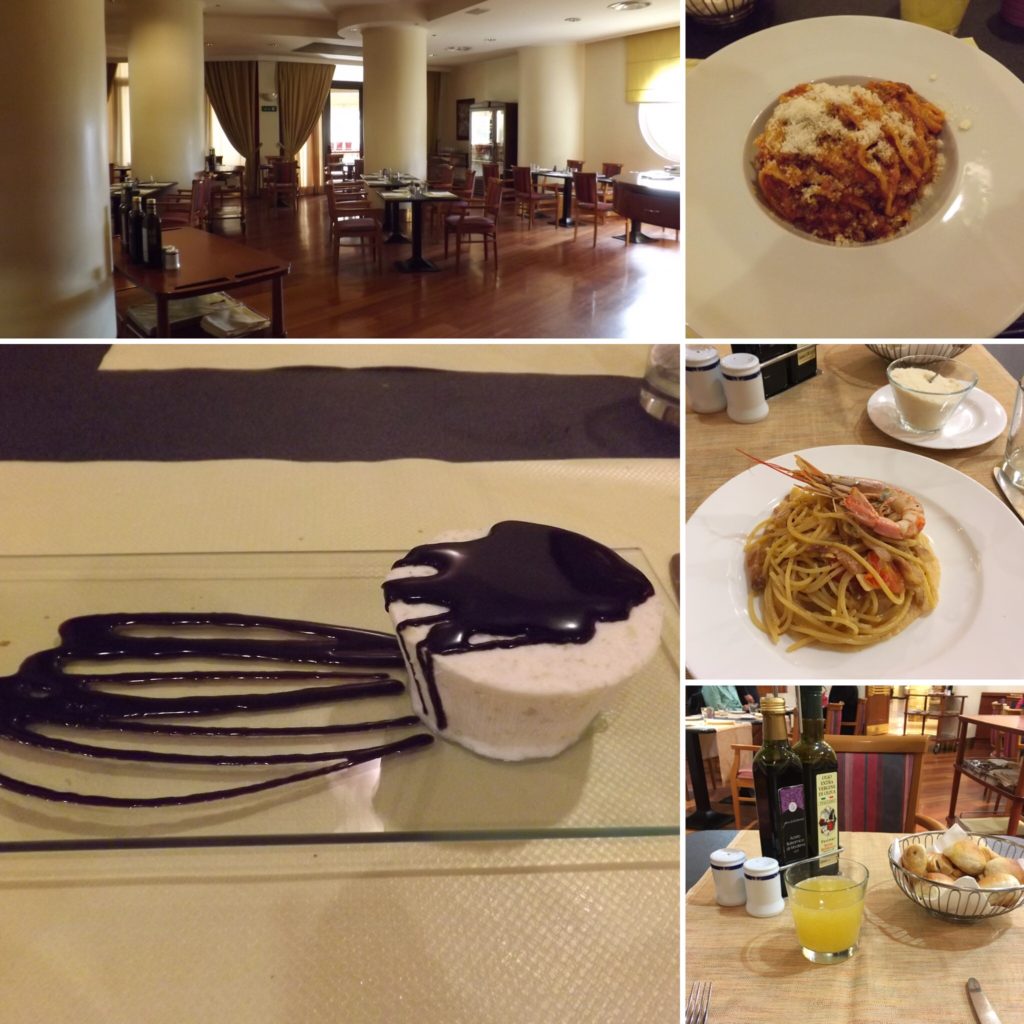 La Sughereta Restaurant
Evening meals are not included as part of the package for the stay at Hotel Roma Aurelia Antica, but with its very own A La Carte menu it's hard to resist paying a visit to the restaurant as it offers an array of traditional Italian cuisines, delectable desserts and an extensive list of wines and beverages to suit everyone's tastes.
On the days that I visited the restaurant I ordered the carbonara which was made in a rich creamy sauce, a Gamberi e Pecorino which consisted of bacon, shrimps pasta in a creamy cheese sauce , I also ordered a roasted chicken served with roasted Mediterranean vegetables and of course the restaurant visit wouldn't have been complete without ordering a tasty spaghetti bolognese. I only ordered desert once whilst in the restaurant which was the Semifreddo alle castagne e Cioccolato Caldo which is parfait with chestnuts and hot chocolate cream all meals are served with complimentary bread rolls.
Mallorca Restaurant
I am not really the breakfast type because I am always in a rush everywhere, so when I am away I always take fall advantage of the breakfast buffets and the great thing about the hotel package is the breakfast buffet is included. The buffet is open from 7 am to 10:30 am and there is a wide variety of eggs, bacon and sausages, cereals, yoghurts, fruits, pastries and cakes. Drink wise the Mallorca Restaurant offers various teas and fruit juices, water, coffee and hot chocolate.
Please note: that the restaurant is self-service but you must wait to be seated and you can't take food out of the restaurant.
Room Service
If you have arrived back at the hotel a little late or don't fancy leaving your room but you're feeling a little hungry then there is an option of room service that can be ordered and brought directly to your bedroom. I have a little tradition that whenever I stay at a hotel that offers room service, I make it a point to treat myself at least once. On this occasion, I opted for a cheeseburger and fries and I have to be honest this was probably my favourite meal the burger its self, was tasty and juicy and the burger bun toasted served with a garnish and the fries were flavoured. I was also brought up a complimentary dessert which was called Affogato al Caffè which you can see in the picture below and consisted of cream, ice cream, chocolate, and coffee and was very rich and tasty even for a non-coffee lover like myself.
Please Note: As well as paying the menu price for the food there is also an extra charge for the room service.
Rooms At Hotel Roma Aurelia Antica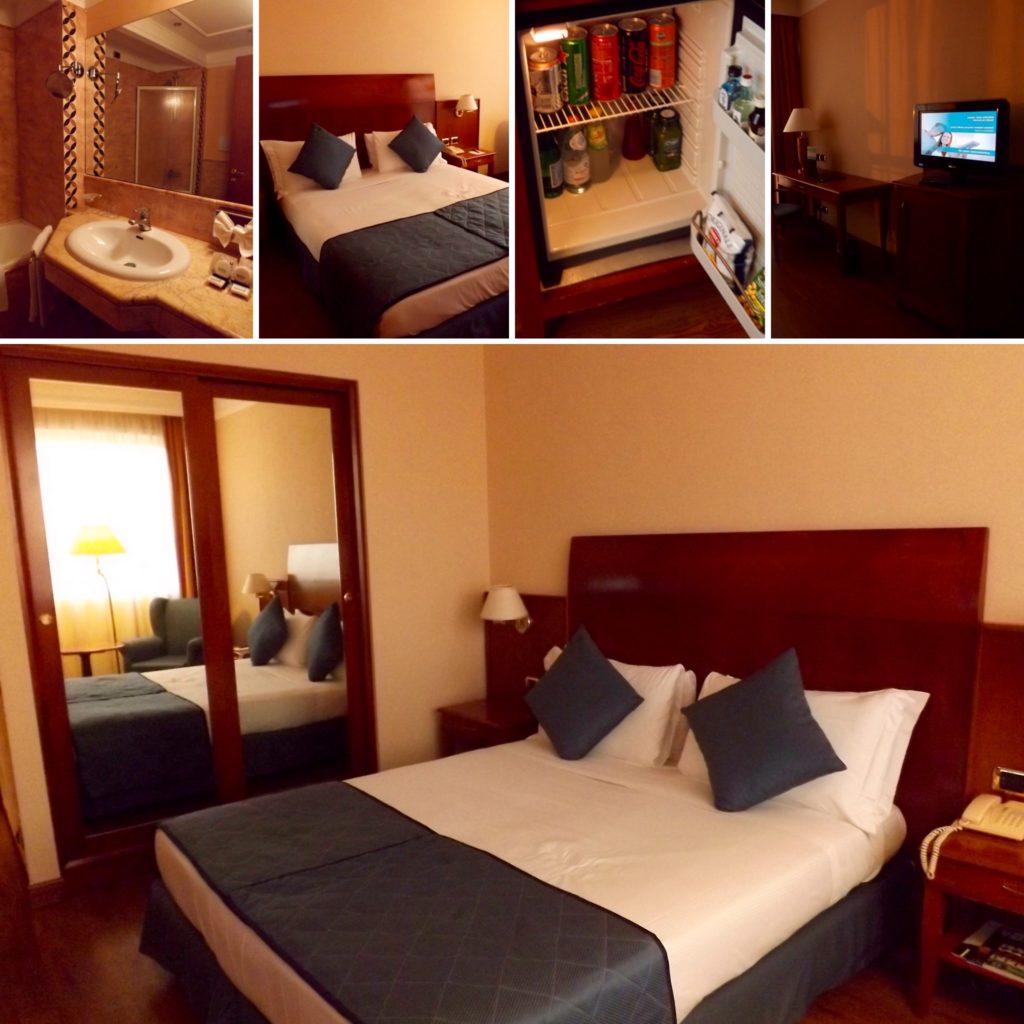 The Hotel offers 6 different types of rooms including the Superior Room, the Grand Premium, the Standard Room, Junior Suite and the Grand Suite Experience.
I stayed in a superior room on the 4th floor (the only floor to have had the carpet replaced with wooden flooring). Which I must say that the room was stylish and spacious, which catered to all my needs including a comfortable king sized bed, a 32-inch Television screen, a mini bar fridge filled with snacks and drinks all available at an extra cost. For my work needs, I had a desk and a homely armchair, other extras included a kettle and a safe.
The bathroom was an impressive size as which included nice fluffy towels, toiletries, a hairdryer, as well as you're usual must have in a bathroom. Housekeeping came every day to replenish my toiletries and to tidy the room.
The Reception & Bars at Hotel Roma Aurelia Antica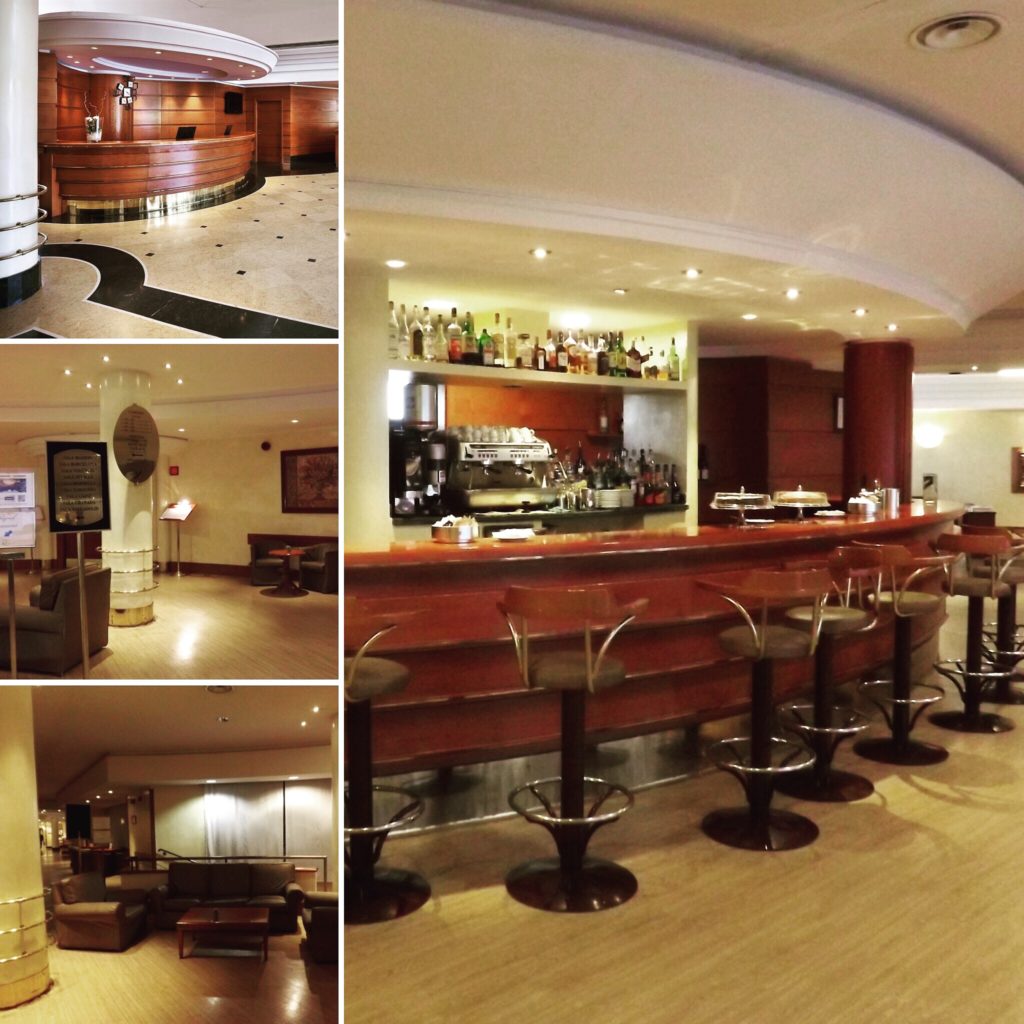 The Bars
The hotel contains two bars one by the swimming pool which was closed as the swimming wasn't open during that time of the season. The other one is the main bar area between the reception area and La Sughereta Restaurant on it daily basis it offers a happy hour a variety of drinks as well as being able to order snacks from the bar from 10 am till midnight.
The Reception
The reception area is manned 24/7 and as you enter the hotel it is the first area that you see when you enter the hotel, they offer currency exchange, wake up calls and you can book the shuttle or taxies from them.
Hotel Roma Aurelia Antica Gym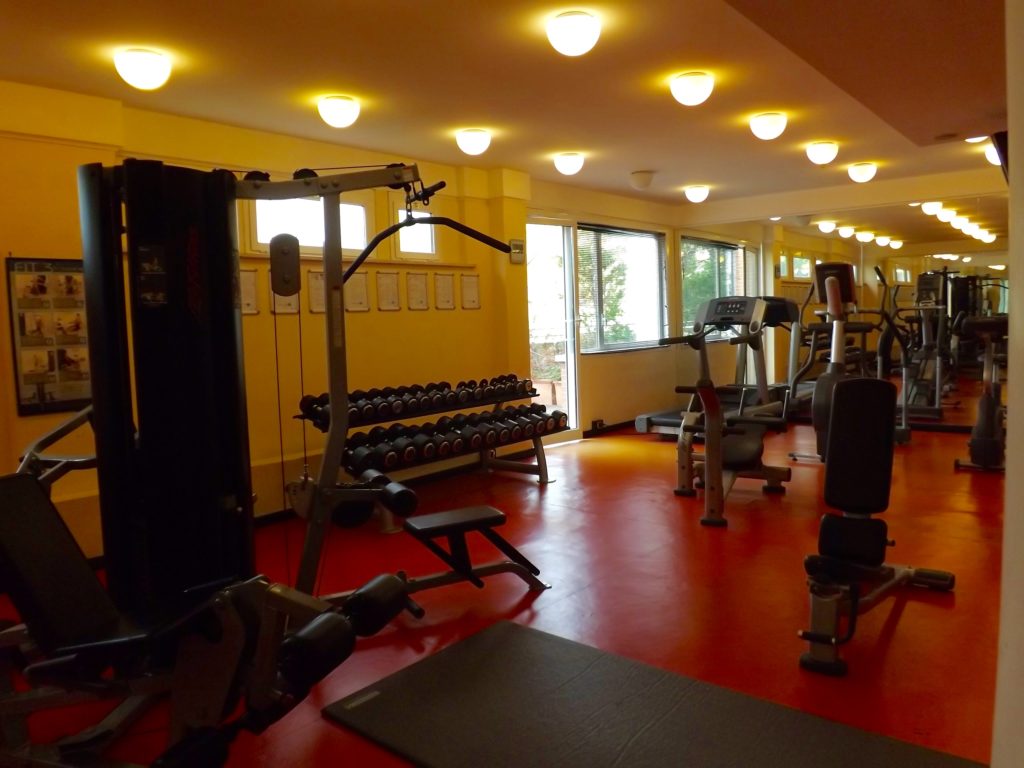 I love it when the hotel offers the gym as it's a great way to work off all the extra holiday food I end up eating whilst travelling and it's a great day to end off day for a great nights sleep, I used the gym every day throughout my stay. What I like about the gym is that is provided everything needed
Equipment
Treadmill,
Exercise bike,
Weights,
Vending machine,
Water
Fresh Towels,
TV and music
A kettle with free tea and coffee
An outdoor terrace to relax after a hard work out.
Art at Hotel Roma Aurelia Antica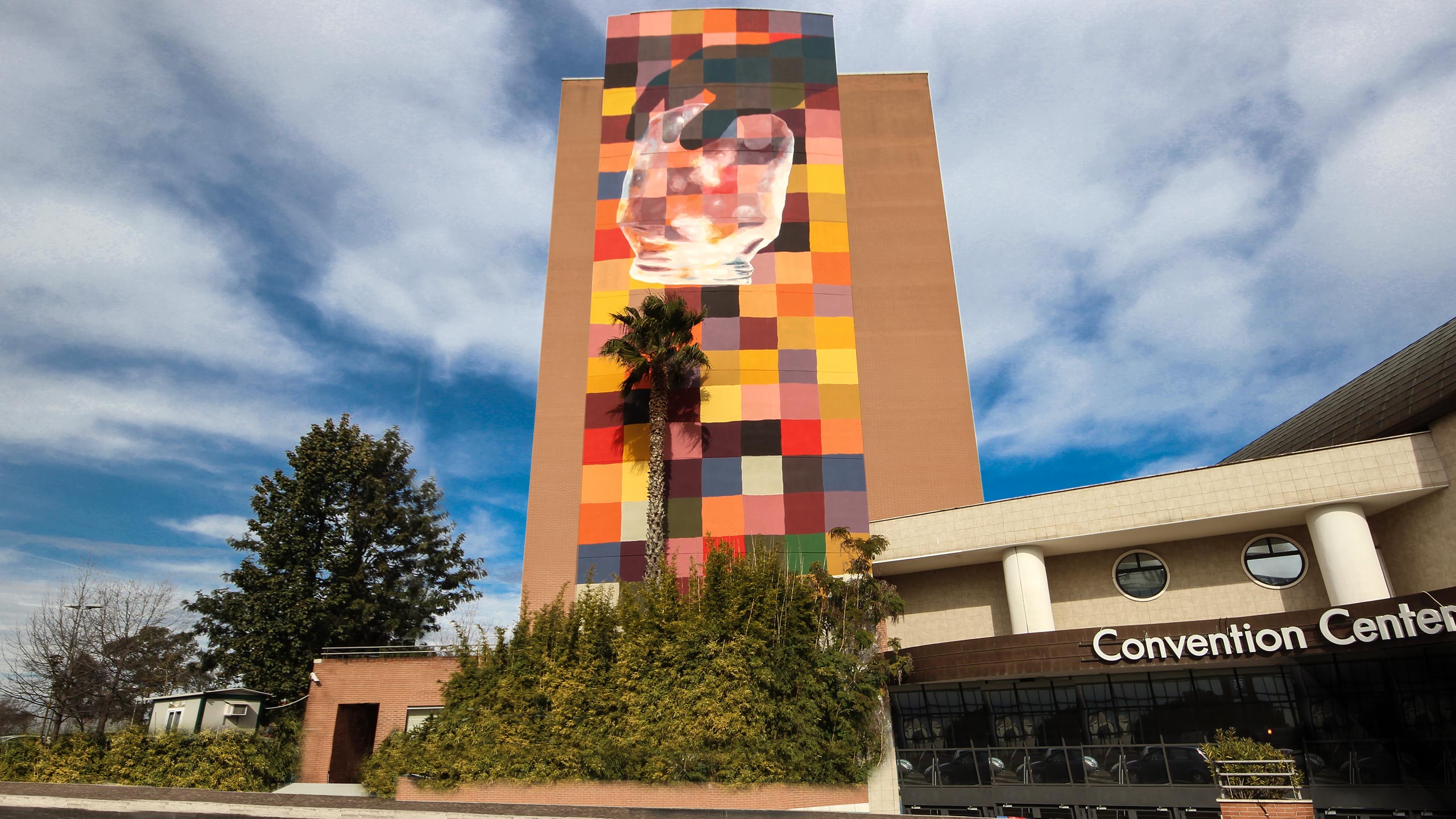 Most hotel's offer art framed on the walls of the hotel. Hotel Roma Aurelia Antica likes to have their artwork on display for all to see and they commissioned an internationally renowned street-art artist called Moneyless to paint 30-foot murals across the outside walls of the hotel. One of my favourites is the picture above.
The Staff at Hotel Roma Aurelia Antica
This is the second time that I have visited Hotel Roma Aurelia Antica, the first time the staff were unaware that I was a Travel blogger/YouTuber and this time around I was invited to stay and found all the staff to be very helpful, polite and friendly on both occasions.
Free Facilities & Services included at Hotel Roma Aurelia Antica
Outdoor Swimming Pool (open for the summer season 22nd June till the 22nd September)
Gym (Open all year round)
Unguarded parking area
Children's play area
Mallorca Restaurant (Breakfast Buffet)
Air conditioning
Plasma TV with the option to rent movies
24-hour reception
Hotel Roma Aurelia Antica Facilities & Services at a cost
Hotel Bar & Pool Bar
La Sughereta Restaurant (A la carte Restaurant)
Room Service
Wifi (€3 for 4 hours and €10 for 24 hours) – I found the WIFI to be very fast
Laundry and Ironing Service
Minibar (menu included in the room)
Room Safe
Pool tables
On-site store (for gifts, drinks and sweets)
Private parking area is €8 per day
Shuttle Service to and from the Vatican City €2 one way or €3 return (leaving Hotel at 8:30 am, 10:00 am, 11:30 am, 11:30 am, 14:00 pm, 15:30 pm, 17:00 pm and 18:45 pm, in March to October 21:45 pm and collection from the same drop off 9:10 am, 10:40 am, 12:10 pm, 14:40 pm, 16:00 pm and 17:30 pm and 19:15 pm and from March to October 22:15 pm)
Other Cost's
Hotel Tourist Tax €6 per person per night
How to get to Hotel Roma Aurelia Antica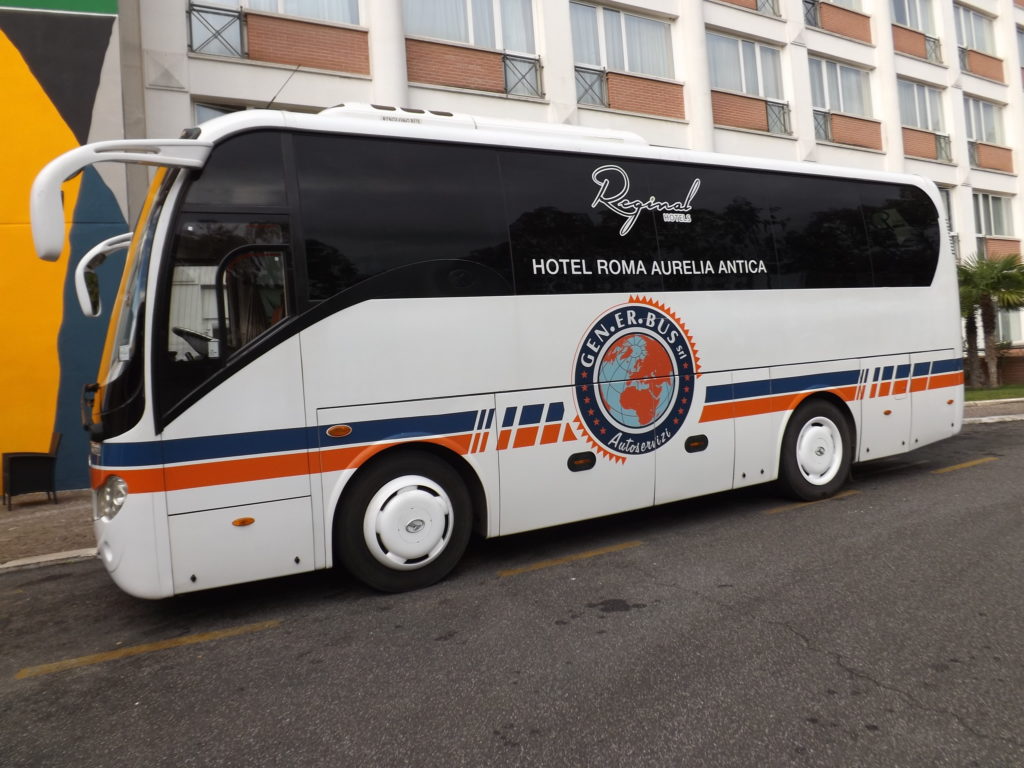 Roma Aurelia is not in the Vatican City, it's about 25-40 mins drive and defiantly not within quick walking distance. Below I have put all the ways to get to the hotel.
Stazione Termini (Train Station)
Go down the stairs on the platform and turn left, go up the second set of stairs and turn left again walk past the factory to either the bus stop or keep on walking.
Bus Stop (purchase tickets before at the online shop, can't give a price as the driver let me go on for free) get on either of the two buses and get off outside the University of Roma and it's a 2-minute walk on the opposite side of the road.
Walk past the bus stop and take the first right follow the road/hill up you'll pass Villa Aurelia Sports Club, walk past that till you get to the main road, then turn right and follow the road up on the right side until you get to the University of Roma cross the road and take your first left to the hotel this is a 15-minute walk (I have done this on crutches!)
Ciampino Airport
Pre-booked Taxi: I looked online and found a pre-booked taxi for €40 (It's more reliable to use a taxi to pre-book as it's a fixed price)
Shuttle Service straight to the hotel based on a return of €23 per person
Shuttle Service to Rome Stazione Termini €8 Return (see train route for after)
Fiumicino Airport
Pre-booked Taxi: I looked online and found a pre-booked taxi for €48 (It's more reliable if you are going to use a taxi to pre-book as it's a fixed price)
Shuttle service direct to the hotel based on a return of €23 per person
Shuttle Service to Rome Stazione Termini €8 Return (see train route for rest of route)
Hotel-owned Shuttle Service pre-booked €28 each way for just one person or €14 each way per person of a minimum of 2 persons per booking (times run at 7:45 am, 9:45 am, 11:30 am, 13:30 pm
Rome Stazione Termini (Train/Bus Station)
Train to Roma Aurelia Station €1 one way (Go to platform 25-28 check the screens for the correct platform)
The public bus route is a bit of a mission as you will need three buses (You'll need to pre-buy your ticket from the station)
Taxi – Be careful, I went to the licensed taxi stand asked the driver how much he quoted me €20 euro, so I got in and he changed his mind and said €60 so I stopped the car got out as there was no metre and he tried to charge me €10 for a 3-second ride I refused and walked away.
Other Blog Posts You Might Like