August was an exciting month for me because I got to exhibit one of my photos at the Herrick Gallery in Mayfair, which was part of an exhibit called Blography. Thanks to the guys at Traverse, I was invited to submit some of my photos and then one would be chosen for the exhibit along with 49 other influencers from various niches of blogging.
What made this project a little bit more special, was that all the photos had to be done through mobile photography. The guys at Three and Samsung were kind enough to supply me with a brand new, fresh out of the box Samsung S9 plus and a sim card so that I could experiment with its camera features. (You can read my review and tips here)
The Photography Project – #THREEGALLERY and #GOROAM
Armed with a brand new Samsung S9 Plus for two weeks my adventures took me across London, Southend and even Portsmouth which really helped me to not only up my Instagram game but also improve on my editing skills.
Thanks to the guys at Traverse a number of workshops were put on for all the participants in this project. Unfortunately, I was only able to attend two of those workshops as I had dislocated my shoulder. The workshops which I was able to attend, were by Kim Leuenberger and Julie Falconer A Lady in London which I found both very insightful. As for the rest, it was just a case of looking online for great mobile photography tips and experimenting with the Samsung S9 plus.
The project organisers were looking for a wide range of photos for the exhibit, that could really show off the full capability of the Samsung S9 Plus. Either through using its automatic mode, panorama mode, food mode and my personal favourites the pro mode and selective focus mode. Nothing was off limits when it came to taking the photos from skylines to low light, landscapes to portraits and not forgetting macro photography (extreme close-ups). If it could be done on the Samsung S9 Plus, then it was accepted as part of the project and the only rules for this project were;
All photos had to be taken with the phone provided (in my case that was the Samsung S9 plus and others had the Samsung S9)
When posting on Instagram include the hashtags #ThreeGallery and #Goroam
Editing and cropping was allowed
Send 1-5 photos to Traverse, who would then pick a photo to be shown in the Blogography Photography Exhibit.
The Photos I sent in for the Exhibit
I had so many photos to choose from because I really enjoyed doing this project and it really got my creative side flowing. The project literally took me from royal parks, town centres, concert halls and even to the seaside because of all the nice weather that we were experiencing in the UK at the time. But there was cut off at 5 photos and below you will see my favourite five that I sent in.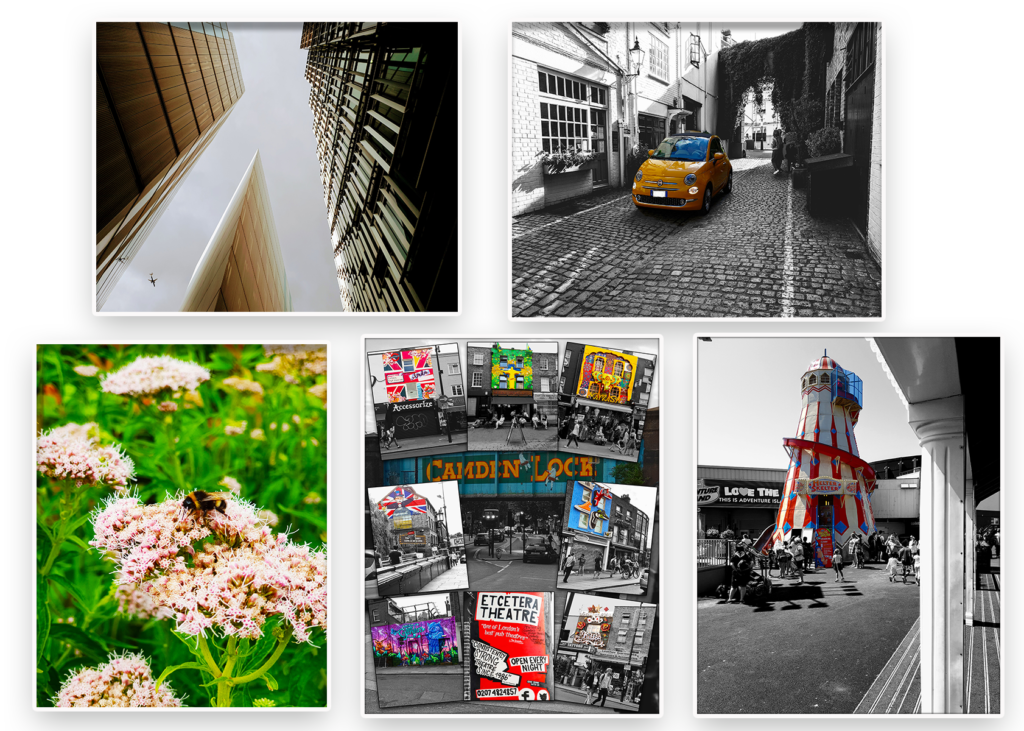 My Inspiration for Each of My Five Photos
Reflective City – I took this photo whilst on a workshop with Kim Leuenberger at Tower Bridge, I used the Pro mode and all editing was done using the Samsung S9+ to get the tone for this photo.
Mini Adventures -Another photo taken whilst on a workshop, this time with Julie Falcone in Kensington. I used the Pro mode for this one, saved one version in black and white and saved the same photo in colour using the auto filter. I then used photoshop to blend the photos together.
Busy Bee in Regents Park – It was great to get up close using the Samsung S9 plus to snap this bee, doing what it does best, without invading its space. For this one, I used the selective focus mode.
Colourful Camden – This was one of my favourite photos in the project because I put so much time and effort into creating it, 4 hours to be exact. I mixed the colour photo's, with the black and white photos which were both edited using the in-app Samsung photo editor and photoshop to finish it. I used this style because I wanted to show how colourful and unique Camden is and how much it stands out in London for its uniqueness.
Southend's Helter Skelter -My final photo was taken on a family trip to Southend during our July heatwave, so this one is a little special to me. The idea for this photo came to me because in the 1950s and 1960s the Great British Seaside resorts were the place to be, all resorts had donkey rides, candyfloss and all piers had funfairs with Helter Skelters. Fast forward to today and although the rides are bigger and faster, it's nice to see that some things stay constant.
The Photo Exhibition in the Westend
The exhibition was held at the Herrick Gallery just opposite Green Park on the 1st and 2nd of August, which was open to the general public and I'll admit it took every fibre of willpower in me to not go up before the private after-party, to see which of my photos the guys at Traverse had chosen to be exhibited.
On the final day of the exhibit, my family came with me for the afterparty. We actually arrived an hour early so I could check out my chosen photo before everyone arrived because I was having a little panic and had started to convince myself that for some crazy reason Traverse had never received my photos and I had to know. Luckily enough my chosen photo was up and there was nothing to worry about as it was instantly recognisable and I felt a lot of pride after seeing it because my work was hanging up in a gallery in Mayfair, certainly an achievement to be proud of.
During the after-party, it was great to see so many fantastic influencers photos. Some had gone as far as the USA and the Mediterranean whilst others had ventured around the UK on their mobile photography adventures. It was great to see some influencers who I already knew as well as ones that I had met through the workshops exhibit their photos. Also attending the event were some representatives from Three, who were on hand to show their support as well as give a few tips and tricks about the Samsung S9 plus and I even got some tips for my Samsung S8, which I have been using recently whilst doing my London Travel Series.

A Little Extra
As an extra bonus, there was also an opportunity for four participants to win a Samsung S9 Plus. This would be chosen at the end of the night by the team at Three, Traverse and some of the workshop teachers. I imagine it was a very hard decision, purely because every participant who had taken part, created beautiful photos to be proud of. I wasn't one of the winners but for me, I was happy for the experience and opportunity to take part in this project and I even got to take home my Southend's Helter Skelter photo which is now hanging on my bedroom wall.
What I Have Taken From Doing This Project and How it's Helped Me
This was an enjoyable project to take part in because it has allowed me to;
I've crossed off another of my bucket list wishes, which was to exhibit my work professionally.
I have a new found appreciation for mobile photography. Because before I would avoid photos taken with my mobile phone, purely because I was worried it wouldn't look as professional. But with the Samsung S9+ and even the Samsung S8 (which I currently own) really does provide nice quality photos.
A big part of this project involved me posting to my Instagram which really gave my account an engagement boost, which is important as an influencer.
Samsung S9+ Mobile Photography Tips and Tricks
Night time and low light shots use the F1.5 aperture mode and for the daylight use the F2.4 aperture mode.
Make sure your viewfinder grid is on. Use the 3×3 grid as this will help with positioning the important elements for your photo.
Just because it's your mobile phone don't forget to clean the camera lens.
Keep it simple sometimes less is more.
If you use the Pro mode this will give you more control over your settings.
To learn more about the event visit Traverse website and for more information about the Three and the Samsung s9+ visit http://www.three.co.uk/samsung/galaxy-s9-plus
Other Influencers who wrote posts About the Project You Should Check out